Content Management System (CMS)
Stay Up to Date
A website is only as good as the content that it delivers. Content Management System (CMS) / Content Management Framework (CMF) integration allows quick and easy maintenance of content. Keeping your content up to date by changing it regularly makes sure the information is relevant, your customers are up to date and boosts your search engine ranking.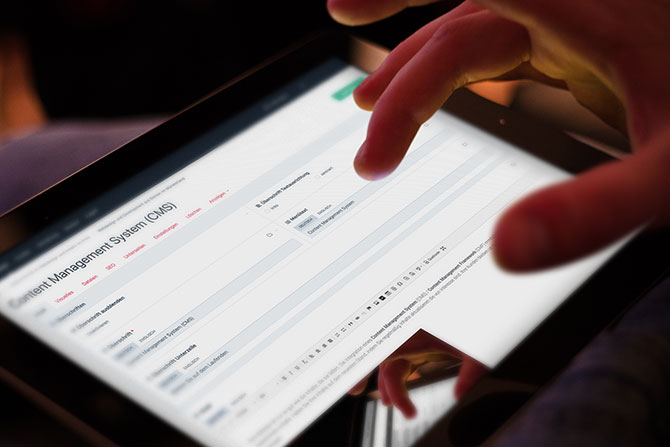 All VISUAL GRAPHICS® websites provide the option to add a Content Management System (CMS). It is so easy to handle, that anybody can do it! You can alter texts and photos, add tables and lists and much more.
We offer training for your staff, that comprehensively explaines efficient ways of dealing with your content management system.
Programming of Templates
The output of contents (frontend) are controlled by templates. The creation of templates is therefore the actual programming work in the creation of a website. Once a template (output variant of a content) has been created, it can be used as often as desired (for any number of contents, on any sub-pages). This ensures that the extensibility of a site is optimally given.
Modular Construction
The templates, the resulting web front-end are conceived in a modular design, so that the website can be expanded with new components at any time, even after completion.
Content filling and CMS training
In order to provide a complete website with contents (text, lists, photos, ...) after completion of the website, VISUAL GRAPHICS® takes over the basic editing of the primary data. The scope of the basic data will be defined in advance with the customer, but on request it can also be done completely by the client himself.
In order that further administration of the content can be done by the customer, a training in the maintenance system will be held after completion of the site. So you can add your latest product information, specials, news, articles and links with a few clicks any time you want. These will keep people coming back to your site and keep you moving up the Google rankings.
Individual Solutions
Of course, we are open to your individual wishes and are happy to consider appropriate solutions for the best possible result.
So talk to us about a Content Management System for your website and see how flexible and cost effective it can be.