Neutorviertel promotes for 60 shops
Business-people launch initiative / Flyer to get visitors interested
"How many stores does have the Neutorviertel plus Goldstrasse, what do you think?" The fact that there are 60 retailers, Christoph Ruthmann would even not thought. However: The area is not Borkens shopping mile. And exactly that wants to change the "Association Neutorviertel".
Folder Neutorviertel und Goldstraße
Borken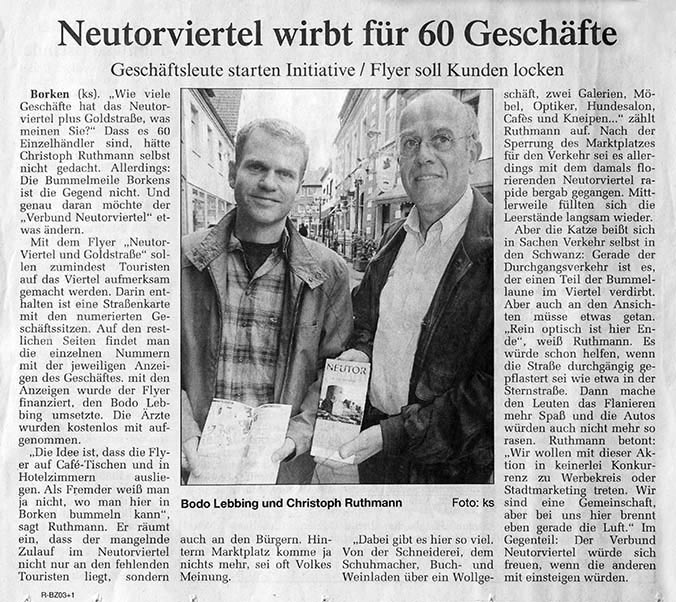 By Flyer "Neutorviertel and Goldstrasse" should at least tourists are made aware of the quarter. This includes a road map with the numbered places of business. In the rest of the pages can be found the individual numbers with the respective displays of the business. With the business display of the Flyers was financed, which Bodo Lebbing has designed. Doctors were included for free.
"The idea is that the flyer lie across cafe tables and in hotel rooms. As a stranger you do not know where you can stroll here in Borken", says Ruthmann. He admits that the lack of supply in the Neutor district is not only to the lack of tourists, but also to the citizens. Behind the marketplace is nothing more, is often what people think.
"It's so much here. From the tailor, the shoemaker, books and wine shop, a wool shop, two galleries, furniture, opticians, Pet Grooming, cafes and pubs ..." Ruthmann says. After the locking of the marketplace for the traffic it was gone, with the then flourishing Neutor quarter it goes rapidly downhill. Meanwhile, the vacancy filled again slowly.
But the cat biting its own tail traffic matters: Straight through traffic, it is a part of the spoils mood stroll in the neighborhood. But also to the views something must be done. "Visually, this is the end," knows Ruthmann. It would help if the road was paved throughout, such as in the Sternstrasse. Then do the people strolling more fun and the cars would also no longer lawn so. Ruthmann emphasized: "We want to get to advertising Werbekreis or Stadtmarketing with this action in any competition. We are a community, but with us here precisely burns the air "On the contrary. The composite Neutorviertel would be happy if the others would enter with.
Borkener Zeitung / Nr. 199, 27.08.2005